Last Updated: October 2018
I got my first computer in 1981 at the tender age of 11.  In fact I wanted a colouring book, I had no idea what a computer was, but within a few days I was completely hooked and never looked back.  Here's a look through my own personal computing history.
There are other devices I don't mention here, for example I've owned every generation of Xbox console and a whole host of Windows Phones, not to mention a few tablets that, if I'm honest, probably aren't worthy of mention.  I don't want to detail every single piece of technology I've owned though, just the computers.
Apple II
(1980)
Oh yes, as a Microsoft guy my first computing experience was an Apple II.  This was a computer that my father brought home from his office once every couple of weeks for me to use, play with (and in some cases pull the chips out of).  I didn't do much with it, but I played a game called Lemonade a lot.
Sinclair ZX81
(1981 to 1982)
My own first computer was a Sinclair ZX81, complete with 1kb (yeah, read it!) of RAM and a whole 16kb ram expansion pack.  This computer was bought so I'd learn things, but I spent most of my time playing games.  How was I to know I really was learning things after all.
Sinclair ZX Spectrum 48k
(1982 to 1984)
A year after getting the ZX81, my parents bought me a Sinclair ZX Spectrum and, despite my best efforts of playing games all the time, the learning continued.  I consider the Speccy my first 'proper' computer.
Commodore PET
(1982)
When I started studying computing at school we used Commodore Pet 2000 series computers.  This was an amazing machine that I hold in as high regard today, as the day I began using one.
Sinclair QL
(1984 to 1986)
The Sinclair QL (Quantum Leap) was the first computer I bought myself (well, my parents paid half of it) and to this day it is still an amazing machine.  It was the first proper 16-bit computer and was only let down by the awful Microdrive storage cartridges, and that Apple launched the Mac the very next day.
Sinclair ZX Spectrum +2
(1986 to 1989)
Eventually I retired my ZX Spectrum, and my parents bought me a Sinclair ZX Spectrum +2.  The Sinclair name had been bought my Amstrad and this brought about changes including a 'proper' keyboard (it was a bit rubbish really) and a built-in cassette recorder.
Olivetti M240
(1991 to 1996)
This was my first PC and I'll never forget it.  I spent most of my time in WordPerfect 5.1 on this 8086-based PC with a huge (at the time) 20MB hard disk drive, and its monochrome green screen was the place where I lived for several years.
Psion Organiser II XP / LZ
(1988 to 1993)
When I first saw the Psion Organiser, I knew I wanted one.  The concept of being able to do computing on the move, wherever I happened to be, and whenever I wanted, was utterly compelling.  I really loved my Psion Organisers of which I had two, the XP and the LZ models.
Psion Series 3a / 3c / 3mx
(1993 to 1997)
I progressed from the Psion Organiser II to the company's next generation product and owned three of them, the Psion Series 3a, 3c, and 3mx.  It was on these devices that I really learned to write code.
Psion Series 5
(1997 to 2002)
My last Psion was pretty much the last Psion.  I used my Series 5 for several years until the PDA form-factor was resolutely killed off by smartphones.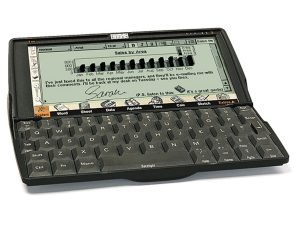 Advent and Self-Build PCs
(1999 to…)
My next PC after the Olivetti M240 was an Advent, a home brand for the PC World shopping chain in the UK.  It was a great PC but at the end of its life I built myself a succession of custom desktop PCs.  Today a desktop is still my main workhorse, and gaming machine.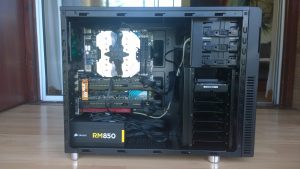 Viglen Dossier XL
(2000 to 2003)
I'd occasionally used early laptops, and found they very quickly gave me eyestrain, but the Viglen Dossier XL was my own first laptop.  Equipped with an Intel Pentium processor, this machine was surprisingly powerful, and one of the first in a new wave of sleek  mobile PCs.
Cubit
(2003 to 2007)
In 2003 I was lucky enough to buy and own the world's first gold plated production PC.  Called the Cubit, it was based on the popular Shuttle form factor, and was made by a startup in Gloucester (UK).  Engraved with the number 001 it now resides at the National Museum of Computing at Bletchley Park.
HP TouchSmart 610
(2007 to 2010)
In its day the HP TouchSmart 610 was revolutionary.  This all-in-one PC was designed to slide downwards, providing a touch-friendly, almost tabletop experience, and it worked very well indeed.  Eventually I found it underpowered for the video production work I was doing at the time so I sold it to replace it with a full Core i7 desktop.
Dell M6600
(2011 to 2015)
An absolute powerhouse of a machine, my M6600 was actually a gift from Dell and many thanks to them not just for providing me with a top-end, high class machine, but for producing such a fine piece of engineering in the first place.  The M6600 is one of the finest laptops I've ever owned and used.  It might have been heavy at 4kg (plus another kilo for the hefty charger), but it saw a lot of usage.
Dell XPS 13
(2015 to 2018)
Another of the finest laptops I've ever used, the Dell XPS 13 only fell out of usage when I bought my Gemini PDA.  It's edge-to-edge (infinity) display was class-leading, and the power contained with its Core i7 processor and 512GB SSD meant there was nothing I could throw at this ultrabook that it couldn't easily handle.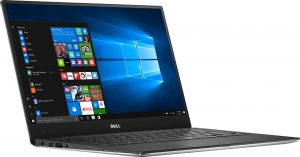 HP Slate 17
(2014 to 2018)
The HP Slate 17 is a 17-inch android tablet, complete with kickstand, that sat next to my desk to serve as a screen for TV and videos.  It was eventually replaced by the Microsoft Surface Go.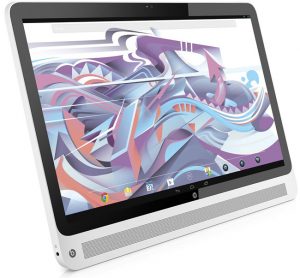 Microsoft Surface Pro 3
(2015 to 2017)
A gift from Microsoft this one (thank you Microsoft), the Surface Pro range has always been stellar and the Surface Pro 3 was where the range really hit its stride.  The Core i5 processor was highly capable, and this device never stuttered or lagged, no matter what I used it for.
Gemini PDA
(2018 to…)
The fifteen year wait for a new PDA form factor ended in 2017 with the announcement of the new Gemini from Planet Computers.  I own three of these beautiful little handhelds, and ended up working so closely with its British designer and manufacturer, that I wrote the official user guide.  It's the one time where I've bought a device and then had to write the manual myself 😊
Microsoft Surface Go
(2018 to…)
The Surface Go replaced the ageing HP Slate 17 tablet and the Dell XPS 13, and is used for watching TV and video in my office, as well as being an on-the-go PC when required.
Honourable Mentions
There are other computers, tablets and smartphones I've owned that really do deserve honourable mentions because they were exceptional products in some way, or really marked a change in the way we used technology.
HTC Touch HD
(2008 to 2010)
The HTC Touch HD was my very first smartphone.  It ran Windows Mobile 6.1 but you almost never interacted with it, as the TouchFlo interface that HTC designed for the phone was surprisingly effective and fully featured.
Acer Aspire L3600
(2009 to 2016)
The Acer Aspire L3600 was a brilliant, dedicated Windows Media Centre PC back in the day when companies still produced such things.  It had a built-in TV tuner, and was only the size of a large hardback book.
Palm TouchPad
(2011)
The TouchPad had such great potential with its innovative WebOS operating system, but because of poor decisions made by HP, who had bought Palm at the time of its release, it was sadly a commercial failure.
HTC 7 Pro
(2011)
The short-lived HTC 7 Pro with its slide-out keyboard, appealed to me because of my love of PDAs.  It was a brilliant little phone that I found extremely usable.
Nokia Lumia 1020
(2013 to 2015)
The first smartphone I bought on the day of release, the 41MP camera in the Lumia 1020 was completely revolutionary, and remained unmatched for several years.
Microsoft Lumia 950 and 950XL
(2015 to 2018)
Windows Phone was an outstanding operating system, especially in its early days.  The Lumia 950 and 950XL, despite not being premium phones, were highly usable and powerful devices.