I don't think I've ever met anybody who doesn't use the keyboard shortcuts Ctrl + X (Cut), Ctrl + C (Copy), and Ctrl + V (Paste) on their PCs, but one limitation is that you've only ever been able to store one thing in the Clipboard. There's a new feature in Windows though called Clipboard History and it comes with a new keyboard shortcut.  Pressing the key combination Windows key + V opens the Clipboard History.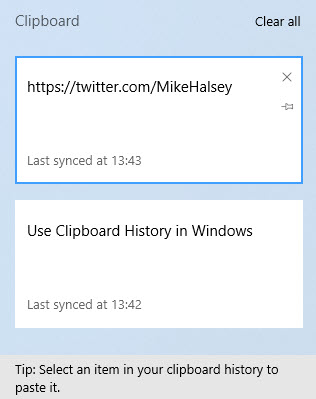 Once the feature is activated, you will see a list of all the items stored, and you can select and click any one you wanted pasted.  You can delete items by clicking the X icon, and also pin them to the Clipboard so that they're always available. The Clipboard History feature is a great addition to Windows that can make it much easier and quicker to perform routine tasks on your PC.
Learn how to maximise your productivity with Windows 10, Mike Halsey's book "The Windows 10 Productivity Handbook" is on sale now from Apress, Amazon, and all good booksellers.