Microsoft's OneDrive service is a great utility for being able to backup, access and synchronise files and documents with your PCs and the cloud.  It's even better that it can work simultaneously with both a personal Microsoft account, and an Office 365 business account. There is a difference however between seeing your files, and having a locally stored copy of them.  If you open OneDrive by clicking its icon in the Taskbar, System Tray, you can click the menu icon (three vertical dots) in its pop-up window to display the various OneDrive options. You can make it appear that all the files and documents you have stored in OneDrive are actually on your PC.  Under the Settings tab check the Files on Demand option.  This option makes it looks like the files and documents contained in those folders are stored on the PC, but in reality each file is just a placeholder that will download the file from the cloud when you open it.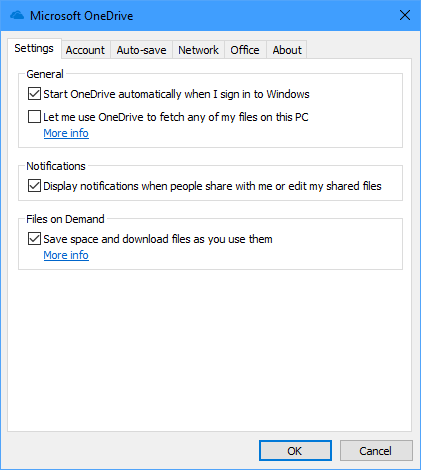 The big advantage of Files on Demand is that on laptops and tablets where you might have a limited amount of available storage you can essentially carry all of your files and documents, with them occupying no space at all until you actually need to download and open one or more of them. To actually download and keep files on your PC, under the Account tab in OneDrive settings click or tap the Choose folders button to choose which folders that you already have stored in OneDrive are downloaded to your PC.
OneDrive Files on Demand and File download are highly effective and useful features, especially for mobile workers or people with laptops, ultrabooks, and tablets with limited available storage, but where you never know which if your files you might need to access, or when.
Learn how to maximise your productivity with Windows 10, Mike Halsey's book "The Windows 10 Productivity Handbook" is on sale now from Apress, Amazon, and all good booksellers.