The Taskbar along the bottom of the screen on the Windows desktop does is more than just a place to pin app icons so you can launch them quickly.  Did you know you can pin and access files, access frequently used files, and perform commonly used actions without even needing to open the app. These are accessed using Jumplists, pop-up menus available either on a mouse right-click, or by touching and holding the icon.  The contents of the Jumplist will vary depending on the app you have opened the Jumplist for.  As an example, the Jumplist for Microsoft Outlook, presents options to create a new email, appointment, meeting, contact or task.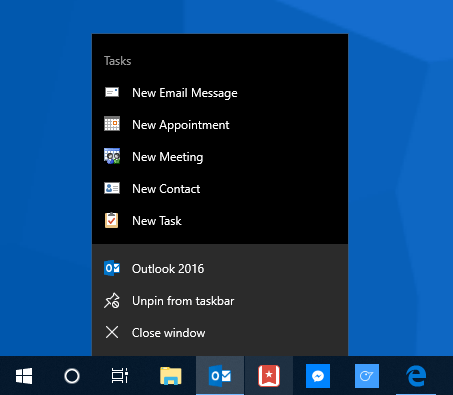 For apps in which you can create and work with files, you will see a list of up to ten of the most recently-accessed files, enabling you to quickly open them again.  Additionally, if you hover your mouse over a file (or touch and hold with your finger) a pin icon will appear to its right.  You can tap or click this icon to pin or unpin the file to the Jumplist.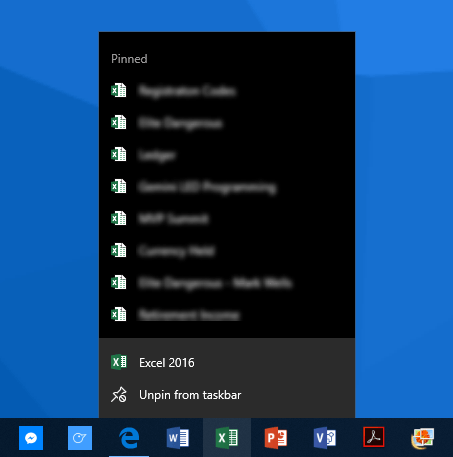 Pinning files ensures that the file will always appear in the Jumplist, no matter to frequently or infrequently it has been used.  You can find that other app types have additional options, from free software allowing you to donate to its development, or audio and video apps embedding play options in the Jumplist.  All-in-all, Jumplists are a great Windows feature that allows you to be much more productive on your PCs.
Learn how to maximise your productivity with Windows 10, Mike Halsey's book "The Windows 10 Productivity Handbook" is on sale now from Apress, Amazon, and all good booksellers.