Windows Updates come to your PC with some regularity.  Anti-Malware updates will normally be delivered once a week, while stability and security updates will come once a month on what is called "Patch Tuesday" which occurs on the second Tuesday of each month.
Then there are Feature Updates, and these are larger updates delivered once a year in the Autumn (Fall) that contain new features for the operating system.  All updates are delivered seamlessly and without problems… for the most part.
Occasionally, very occasionally, an update can be delivered that causes problems on PCs.  This is when you might wonder how you can stop the update from being installed on your PC at all.  Well the answer to that is that you can't, but you can delay them until Microsoft of the third party creating the update (as is the case with hardware drivers) can find and fix the problem.
Open Settings and click Windows Update in the left panel.  This will display a Pause updates drop down menu that you can click.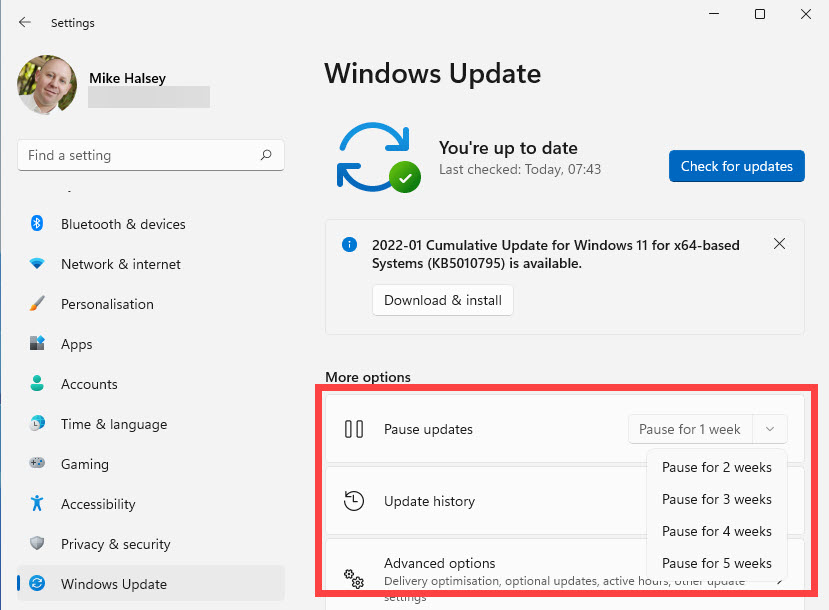 Updates can be paused on your PC for up to five weeks, and this will prevent all but the most serious security fixes from being installed during that time.  This can give you peace of mind when a bug needs to be fixed.  Pausing updates in this way though can also be helpful if you are working on a crucial project, and don't want to be interrupted at all with your PC needing to restart.
Learn how to find your way around Windows 11, make it easier to use, and how you can get more done with your PC with Mike Halsey's book "Windows 11 Made Easy", now on sale from Apress, Amazon, and all good book sellers.