While you will always be able to sign into your Windows PC with a password, or a PIN code, the operating system also supports a range of advanced biometric security sign-ins if the hardware on your PC or laptop support them.  This Windows Hello feature includes being able to use facial recognition, so you only have to sit in front of your PC, or by touching a fingerprint reader which are sometimes even built into the power button on laptops.
You can access Windows Hello by opening Settings and then navigating to Accounts and Sign-in options.  If any biometric sign-in options are available to you these will be listed and in the example below you can see that fingerprint recognition is showing as "unavailable" on this PC.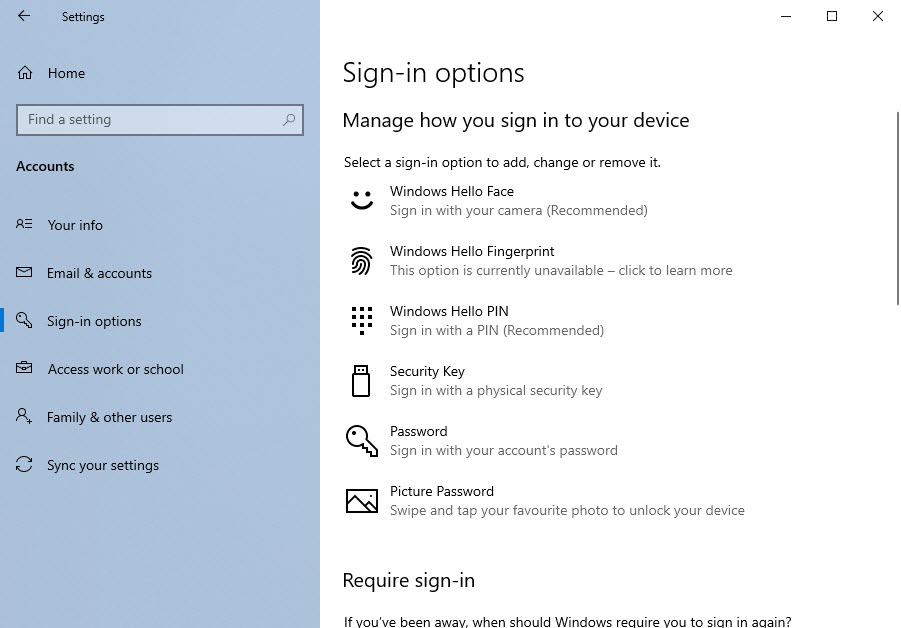 Clicking the option you want to use will display an easy to follow wizard.  It will either ask you to sit in front of your webcam so that it can scan your face, or it will ask you to repeatedly touch the fingerprint reader with one or more fingers, so that it can get a good scan.
Important note about privacy: As with all modern biometric features including those from Apple and Google, Windows Hello only ever stores your biometric data on a secure chip on your computer's motherboard.  This information is never transmitted over the Internet, or stored in your Microsoft Account, and is never shared with Microsoft or any third-party.
You need to set up Windows Hello separately on each PC or device you have that supports it, as for security reasons the biometric data is only stored on that local device.  Windows Hello though can be a very fast and efficient way to sign in to your devices, and also allows you to use much longer and more secure passwords, helping prevent access to your files and data if the PC is lost or stolen.
Post expires at 2:00am on Tuesday October 14th, 2025