We're all becoming much more aware of our online privacy, and how major corporations have turned us into the product.  Fortunately Windows 11 makes it really easy to manage your privacy.  In Settings, navigate to Privacy & security and then you will see a General button in the Windows permissions section.
Clicking this will display the main privacy options for managing your main privacy settings, which include whether Microsoft are allowed to use your Windows and online activity for advertising purposes.  One setting you might want to deactivate though is to let "suggested" app be shown to you in the Start Menu and search results.
Further down the Privacy & security settings you will find App permissions.  This is where you can get fine control over what apps have access to crucial hardware and features, such as your camera, microphone and location data.  These are easy to control as you can turn permission on or off for specific apps, or just turn all permissions off entirely.
If you have Windows Hello biometrics set up on your PC so you can log in using your webcam, the Microsoft Store and some other Windows features will have camera access, as they will use it to authenticate app and other purchases with Windows Hello.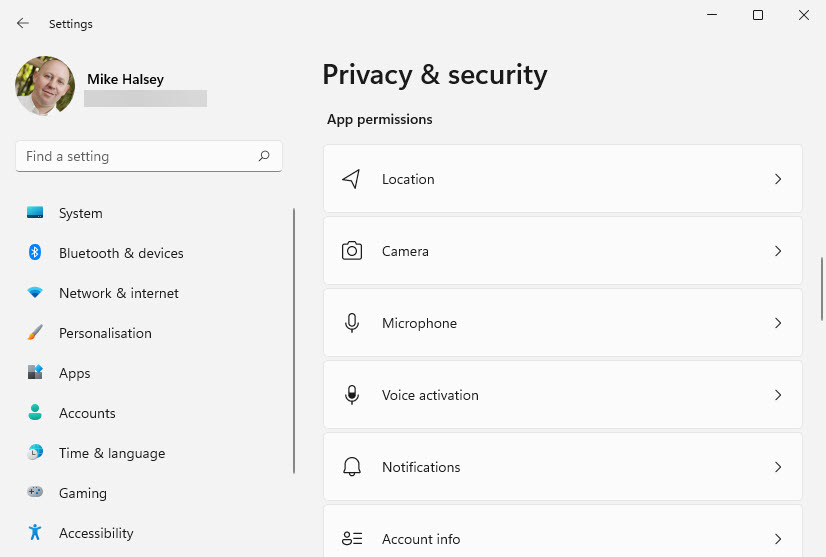 Another useful privacy setting to lok at is your stored Activity History.  This contains details of web browsing history and which files and documents you have opened.  Not only can you turn this tracking off (though some Windows features may not then work as you might like them to), but you can completely clear your currently stored history from the PC.
Some of these privacy settings provide a link to your Privacy dashboard.  Clicking this link will take you to the Microsoft website where, after signing in with your Microsoft Account ID, you can check and set all the privacy permissions for your Microsoft Account, covering Windows, Outlook email, Xbox and Office.
In addition to the privacy settings available in Windows 11, there additional settings available in the Edge web browser you can also set, which can help keep your personal information and data safe when using the Internet and social media.
Learn how to find your way around Windows 11, make it easier to use, and how you can get more done with your PC with Mike Halsey's book "Windows 11 Made Easy", now on sale from Apress, Amazon, and all good book sellers.