Last Updated: July 2019
Microsoft Surface Laptop 2
While my desktop PC is my daily driver for work, there are times I want to be able to work in the garden, or at a local bar or cafe (I know, it's a terrible life), or for when I'm travelling or having meetings, and need something bigger and more powerful than the Gemini PDA or Cosmo Communicator (see below).  For this, and after several years of owning, and loving a Dell XPS 13, I opted for the Microsoft Surface Laptop 2, with an eighth-generation Core i7 processor, 16GB Ram and 512GB of storage, all wrapped in a gorgeous black case with an alcantara keyboard surround.
Planet Computers Gemini PDA
I was always a fan of PDAs (Personal Digital Assistants) and used to own various Psion PDAs including various models of the Organizer II and Series 3, and the Series 5.  The Gemini has been created by UK startup Planet Computers, and the man behind the Psion Series 5's legendary keyboard.
It runs Android and Linux in a dual-boot system with an 18:9 (2160 x 1080) display, a 10 core CPU, 4GB Ram, and comes with 64GB storage that I have expanded with a 256GB MicroSD card.  It has both Wi-Fi and 4G connectivity.  In addition to being a fully-functional PDA, the Gemini is also my phone.
I own three Gemini PDAs and quite literally wrote the book on them, as I'm the author of the official user guide.  Find out more about the Gemini PDA.
Planet Computers Cosmo Communicator
(Coming soon)
This summer I will be taking delivery of Planet Computers' followup to the highly successful Gemini PDA.  It's called the Cosmo Communicator and includes an external touchscreen, biometric fingerprint reader, 24MP camera, backlit keyboard and has an upgraded processor, memory and storage.  You can back the Cosmo Communicator yourself HERE.  Note: As with the Gemini PDA, will also be writing the user guide for the Cosmo.
F(x)Tek Pro¹
(Coming soon)
Because of my love of keyboards on mobile devices, as collectible items as much as anything else, to accompany my Cosmo Commuicator I will also be taking delivery of an F(x)Tek Pro¹ smartphone.  This is a great looking device that I'll use when I don't need the superior keyboard on the Cosmo, or when I'll be out using apps such as mapping and GPS.  You can find out more about the F(x)Tek Pro¹ HERE.
Punkt MP-02
The Gemini works well as both a PDA and phone, but while I don't mind being contactable by email or message as I can respond to these at my leisure, I like to be able to leave my phone at home and only carry it when it's convenient for me.  For this I have a Punkt MP-02.  This handset runs Android but does calls and SMS texts and pretty much nothing else.  This also allows me to be contactable by phone, but not over the Internet when I choose.  Nothing else helps you disconnect from the online world like a basic-functionality phone.  Find out more about the Punkt MP-02.
Self-Build Desktop PC
I built a new desktop PC in May 2019 based on an Intel Coffee Lake Core i7 9700k, 32GB DDR4 RAM, and an Nvidia GeForce GTX 1660 graphics card.  This is backed up with two super-fast Corsair NVMe drives at 1TB and 1.9TB.
LG 34UC88 Ultrawide Curved Monitor
I bought this 34-inch, 21:9 ultrawide, curved monitor both for gaming (I play Elite: Dangerous a lot) but also for work (spreadsheets look amazing).  It has a resolution of 3440 x 1440 and provides an excellent wrap-around workspace.  Find out more about the LG 34UC88 Monitor.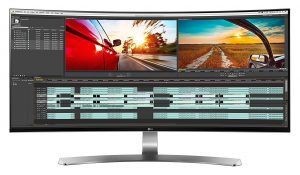 Bose Companion 50 Speakers
I take my music as seriously as my gaming, and buy 24-bit audio online.  My speakers therefore had to be great, so I chose the Bose Companion 50 PC speaker 2.1 set.  Find out more about the Bose Companion 50 Speakers.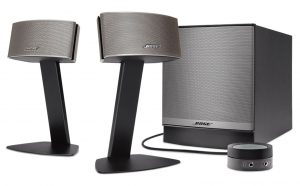 Microsoft Surface Go
I primarily use the Surface Go for watching TV and video in my office, because it's small enough to fit comfortably under my monitor, and has a truly excellent screen.  However this is also a mobile device for project work where it is required, for use with the Surface Go keyboard and pen.  Find out more about the Microsoft Surface Go.
Intel NUC Abel M2
Tucked away, strapped to the back of my living room TV, and running Windows 7 Media Centre is an Intel NUC that I use just for watching TV and video.  It has a Core i5 processor with 8GB Ram and a 250GB M.2 SSD.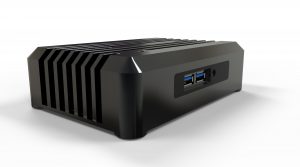 Synology DiskStation DS418
For storage at my home / office, and for video streaming I rely on a Synology DiskStation DS418, 4-bay NAS drive equipped with 48TB of storage in a mirrored array.  I've had a variety of NAS drives over the years but this is my first four-bay unit.  Find out more about the Synology DiskStation DS418.
Microsoft Xbox One X
Okay I'll admit it, I won this in a Microsoft giveaway.  I'm not complaining though.  It might not get used much for games, though we've enjoyed Elite: Dangerous, Cuphead, and Star Wars Battlefront on it.  I use it mostly to watch 4K Blu-Ray movies, and it's an excellent player.  Find out more about the Microsoft Xbox One X.
Home Sound System
I have a home sound system comprised of several Amazon Echo Dots; one with a battery pack so it can be used in the garden, and two Alexa-capable Bose Home Speaker 500 systems.  There is also a Bose SoundTouch SA-5 Internet-connected amplifier connected to Bose 251 outdoor speakers.  These can be controlled by voice from any of the Alexa devices, allowing me to play music, audiobooks, and radio in the garden.
HP Stream 7
Again this HP Stream 7 is getting a bit old, and it's only used as a test-machine when I need to write about Windows 10 running on screens smaller than 10-inches.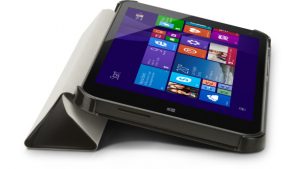 Hyper-X Cloud II Headset
The Hyper-X Cloud II headset is a really fantastic set of headphones, featuring simulated 7.1 surround sound, and useful features such as both a 3.5mm connector, and a USB connector.  Perhaps most useful for me, for the occasional conference call, is that the microphone is detachable.  Why did I choose this headset though?  To be honest I won it in a competition, tried it, and loved it.  Find out more about Hyper-X Headsets.
Olympus LS14 and LS100 Audio Recorders
When I'm recording video courseware I need top of the line recording equipment, and for this I turn to my Olympus LS14 and LS100 professional recorders.  Find out more about high-end Olympus audio recorders.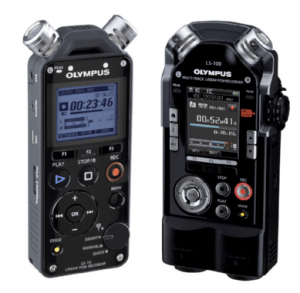 EditorsKeys SL600 Microphone
Additionally to the Olympus recorders, I have an EditorsKeys SL600 condenser USB microsphone, which is also top of the line.  Find out more about the EditorsKeys SL600.