Last Updated: April 2023
Microsoft Surface Laptop Studio
Purchased to replace both my Surface Laptop 2 and my Surface Pro 7 and to use in my house where I do not have a desktop PC (my desktop resides in my gîte, which is an outhouse in which I have my home office).  This was pre-ordered shortly before sales went live in Europe and was the top-end model with a eleventh generation Core i7 processor, 32GB RAM, 2TB SSD, and NVIDIA GeForce RTX 3050 Ti graphics.  I also got the Surface Slim Pen to use with it.
Planet Computers' Astro Slide
My main mobile device is the third device from London-based Planet Computers.  The Astro Slide is the company's first device with a full external screen that slides outwards to reveal a full tactile backlit keyboard.  As with the other handhelds from the company it has a choice of around thirty international keyboard variants from the USA to Japan.  The Astro has a 6.39-inch AMOLED screen, and runs a MediaTek Dimensity 800 processor, with 8GB RAM and 128GB storage, it has 5G connectivity and shipped in 2022 with Android 11, but it also supports other operating systems including Linux and Sailfish.
Google Pixel 7 Pro
This wasn't purchased as a smartphone for general use, it was purchased for a very specific reason and for its camera.  I'm lucky enough to live in a place with almost zero light pollution, and there are some amazing starscapes at night.  Modern smartphones aren't good at astro photography however, with a very few exceptions, one of which is the Google Pixel series.  You can read more about Google's Astro Photography abilities HERE.
Self-Build Desktop PC
My current desktop PC was built in July 2021 and was definitely the most powerful PC I've owned yet, used for both work and gaming.  Powered by a 7nm AMD Ryzen 9 5950X processor, and with 64GB 4000MHz DDR4 RAM, 6TB PCIe 4 NMVe M.2 drives with Windows in a 4TB RAID 0 array for speed, and a Radeon RX6800 graphics card.  All built into a case that has top-mounted USB-A and USB-C 3.2 Gen 2 sockets to take advantage of the capabilities of the Gigabyte x570 AORUS Master motherboard.
Microsoft ARM Development PC 2023
Running on a Qualcomm Snapdragon 8cx processor and with 32GB RAM and a 512GB NVMe SSD this development box was an absolute bargain for the price Microsoft were selling it for.  I purchased it both to use it for recording video courseware, as it's completely silent, but also as a distraction-free development box so that I could teach myself to program in Python.
LG 38WK95C Ultrawide Curved Monitor
I bought this 38-inch, 21:9 ultrawide, curved monitor both for gaming (I play Elite: Dangerous a lot) but also for work (spreadsheets look amazing).  It has a resolution of 3840 x 1600 and provides an excellent wrap-around workspace.  Find out more about the LG 38WK95C monitor.
Bose Companion 50 Speakers
I take my music as seriously as my gaming, and buy 24-bit audio online.  My speakers therefore had to be great, so I chose the Bose Companion 50 PC speaker 2.1 set.  Find out more about the Bose Companion 50 Speakers.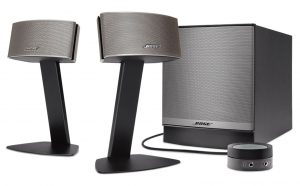 Intel NUC Abel M2
Tucked away, strapped to the back of my living room TV, and running Windows 7 Media Centre is an Intel NUC that I use just for watching TV and video.  It has a Core i5 processor with 8GB Ram and a 250GB M.2 SSD.  This PC is enrolled in extended service for Windows 7.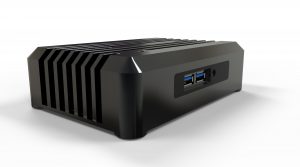 Quiet PC UltraNUC Pro 7
When I came to purchase a couple more Media Centre PCs the Intel NUC Abel M2 was no longer available, so instead I purchased two UltraNUC Pro 7 fanless PCs from UK builder Quiet PC.  These are used elsewhere in my house for streaming video from my NAS to TVs.  You can read more about this PC HERE.
Synology DiskStation DS418
For storage at my home / office, and for video streaming I rely on a Synology DiskStation DS418, 4-bay NAS drive equipped with 56TB of storage in a mirrored array.  I've had a variety of NAS drives over the years but this is my first four-bay unit.  Find out more about the Synology DiskStation DS418.
Microsoft Xbox One X
Okay I'll admit it, I won this in a Microsoft giveaway.  I'm not complaining though.  It might not get used much for games, though we've enjoyed Elite: Dangerous, Cuphead, and Star Wars Battlefront on it.  I use it mostly to watch 4K Blu-Ray movies, and it's an excellent player.  Find out more about the Microsoft Xbox One X.
Starlink Satellite Broadband
Living and working in the middle of the French countryside, access to reliable Internet has been difficult.  Eventually I gave up waiting for 100Mb/s fibre to be installed in my area and bought Elon Musk's Starlink satellite service instead.  You can read my full review HERE but I doubt I'll be getting fibre when it's eventually fitted any more.
Netgate 2100 Security Gateway
While we're on the subject of network infrastructure, I protect my home and office network with a Netgate 2100 pfSense+ Security Gateway device.  This inexpensive unit sits between the Starlink satellite dish and my router and acts as a full security appliance, including firewall, advert and tracking blocker, as well as providing a full suite of tools to prevent malware and hacking.  You can find out more about the Netgear 2100 HERE.
Bose Home Sound System
I have a home sound system comprised of several Amazon Echo Dots; one with a battery pack so it can be used in the garden, and two Alexa-capable Bose Home Speaker 500 systems.  There is also a Bose SoundTouch SA-5 Internet-connected amplifier connected to Bose 251 outdoor speakers.  These can be controlled by voice from any of the Alexa devices, allowing me to play music, audiobooks, and radio in the garden.
Amazon Echo Studio
My use of Bose smart speakers throughout my home comes with one exception, and that is an Amazon Echo Studio speaker in the kitchen.  This is because I enjoy listening to audio books when I'm cooking, and alas the Bose speakers don't play nicely with Audible.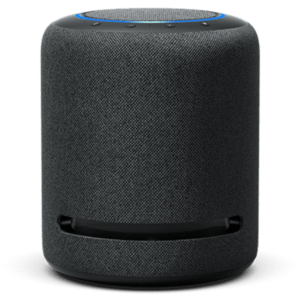 Bowers & Wilkins PX Headphones
I buy and enjoy 24-bit audio so the quality of the speakers and headphones I use is very important to me.  For travel and light use I have Bose in-ear headphones, but for everything else I use the Bowers & Wilkins PX wireless headphones because of Bowers & Wilkins' almost legendary reputation among audiophiles, and for the build quality, comfort, and quality of these portable, noise-cancelling headphones.
Olympus LS14 and LS100 Audio Recorders
When I'm recording video courseware I need top of the line recording equipment, and for this I turn to my Olympus LS14 and LS100 professional recorders.  Find out more about high-end Olympus audio recorders.